Dr. Alphonse Tribuiani
Regenerative
Podiatry
Specializing in the latest state-of-the-art
methodologies for painless and effective foot and
ankle remedies. Our clinic offers a NEW, Non-Invasive and Non-Surgical
therapy protocol that combines the best of cutting edge
medical treatments to help resolve your neuropathy suffering.
Request an Appointment
Your Well-Being,

Our Priority
Discover why "Dr. T" is widely recognized as the #1 Estero Podiatrist and Total Podiatry has become the fastest growing Estero Podiatry Practice.
Our Mission
Expert Care at

Every Step
At Total Podiatry, our team is committed to delivering top-quality care for every patient. With a focus on expertise, compassion, and personalized attention, we strive to ensure optimal foot health and overall well-being. Your comfort and satisfaction are our priorities, making Total Podiatry your trusted partner in every step of your journey to healthier feet.
Selected by
His Peers
For over 23 years, Dr. Tribuiani has dedicated himself to becoming Southwest Florida's premier podiatrist.
His ongoing commitment to excellence, continuous expertise refinement, and genuine focus on patient well-being have solidified his reputation as a trusted leader in providing comprehensive and exceptional foot care services to our community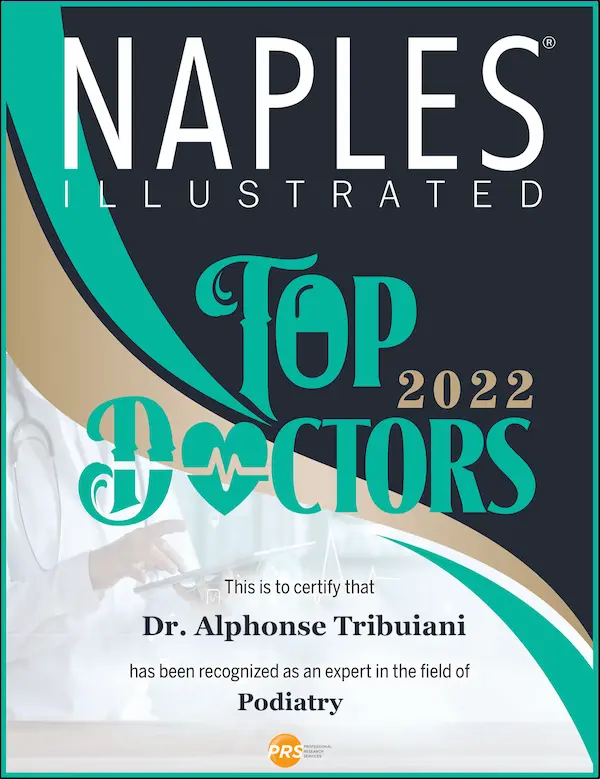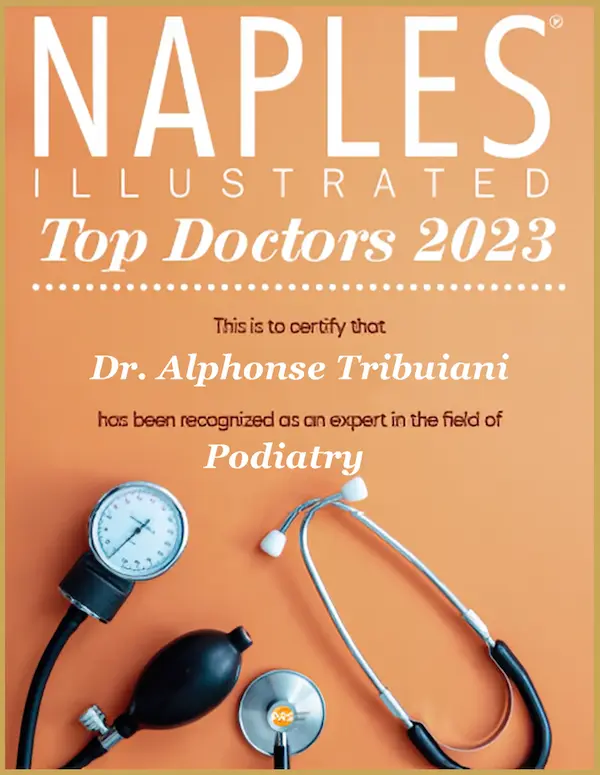 Our Specialties
From bunion care to ingrown toenails, we've got your feet covered! Please visit our services page for more detail and a full list of our services.
Plantar Warts

Caused by a fairly common virus - human papillomavirus (HPV) - the state-of-the-art "Swift" Plantar Wart Treatment delivers lower-power microwave energy to the layers of skin surrounding the wart, attracting proteins that help your immune system to combat & remove warts.

Stem Cell Therapy

Stem cells harness the body's healing potential through a natural process that combines growth factors and bioactive cells. These treatments repair cartilage and ligament damage, as well as tendonitis. It puts an end to foot, ankle & knee pain without discomfort, lingering pain or disability.

Pillows of the Feet

A procedure that will create a pillow-like cushion on the ball of the foot by "puffing up" areas that have atrophied over the years due to wear and tear. It fills those flattened areas and provides internal cushioning in the feet, creating padding between the skin and the bones of the foot.

Therapy

Vascular Mat Therapy improves the impaired pumping movements of tiny vessels, resulting in a distribution of blood-needy regions of small blood vessels. It's an extremely effective treatment option for arthritis, diabetes, arterial disease, and physical injuries, sprains, and ligaments.

Bunions

A bony bump on the joint at the base of your big toe that forms when your big toe pushes against your next toe, forcing the joint of your big toe to get bigger and stick out. Bunions will become increasingly prominent and may cause skin to become red and sore.

Neuromas

You probably won't be able to directly see or even feel a neuroma. But when you put weight on your foot, the neuroma pushes uncomfortably against the nerve. This can cause a variety of possible sensations—a sharp pain, a radiating burning sensation, tingling, or even numbness.
Don't just take our word for it.
what our patients say about us
I have been to many podiatrists in my life time. The office was very clean. There was very little waiting time and the doctor and his assistants were very helpful and kind. The doctor explained that it would be one step at a time, he gave me a lot of hope that I would dance again. Great experience.
I was very impressed with my experience with Dr Tribuiani and his staff. They have a beautifully decorated office making it comfortable and not feeling like a Doctors office. I never felt rushed and they always took the time to answer any of my questions. I highly recommend them to anyone in need of podiatry.
I was in so much pain and Dr. Tribuiani was so certain he could fix the problem I trusted him. I feel great! It took longer than expected but walking and standing are no longer painful. The staff are fabulous.